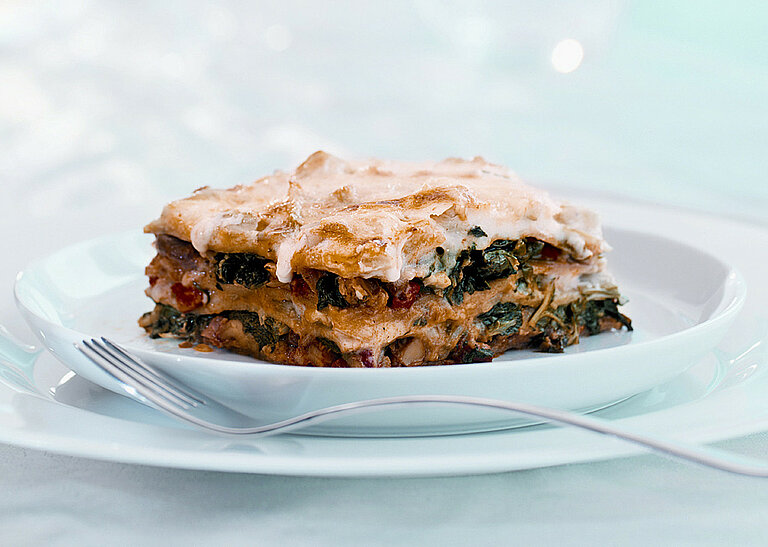 Recipe: Vegetable Lasagne
1 portion contains approximately: 440 kcal - 26 g protein - 20 g fat - 39 g carbohydrates
Ingredients (for 2 persons)
80 g whole wheat lasagne sheets
200 g mixed vegetables (frozen)
100 g mushrooms
120 g large tomatoes
1 tbsp rapeseed oil
100 g low-fat sour cream
1 medium egg
100 ml low-fat milk
1 tbsp tomato puree
1 tbsp mixed herbs
2 tbsp grated parmesan
2 tbsp low-fat grated Gouda
1 tsp olive oil
1 clove of garlic
Salt
Pepper
Preparation
Grease an ovenproof dish with 1 tsp olive oil and place a layer of lasagne sheets.
Cut up the mushrooms and tomatoes and fry briefly in the rapeseed oil.
Whisk the egg together with the sour cream, milk, tomato puree and mixed herbs.
Place alternate layers of the thawed vegetable mixture, tomato sauce and lasagne sheets.
Finish the top layer by coating the lasagna sheet with the tomato sauce and top with the grated cheese.
Bake in the oven for approx. 50 mins at 180°C.
Towards the end of the cooking time, cover with tin foil to keep the top layer moist.