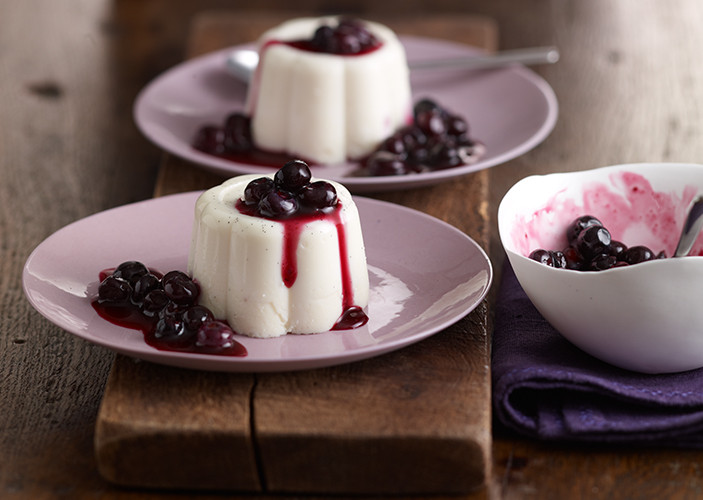 Recipe: Vanilla pudding with blueberry sauce
1 portion contains approximately: 124 kcal - 9 g protein - 4 g fat - 13 g carbohydrate
Ingredients (for 2 persons)
200 ml low-fat milk
1⁄2 a vanilla pod
2 sheets of gelatin
½ tsp lemon zest
1 tsp honey
150 g silken tofu
100 g blueberries (fresh or frozen)
1⁄2 tsp agave nectar
Preparation
Soak the gelatin in cold water.
Gently warm the milk (do not bring to the boil). Scrape the seeds out of the vanilla pod and add to the milk.
Squeeze the gelatin out of the water and dissolve in the milk.
As soon as the milk has cooled, add the lemon zest, honey, and silken tofu and stir vigorously.
Pour the mixture into ramekins, cover with cling film and place in the refrigerator, ideally overnight.
To prepare the sauce, wash the blueberries and heat them in a saucepan. The berries should be soft without falling apart completely. Sweeten with agave nectar and refrigerate.
To remove from the ramekins, place them into hot water briefly, then flip onto a small plate. Surround the puddings with the berry sauce and serve.