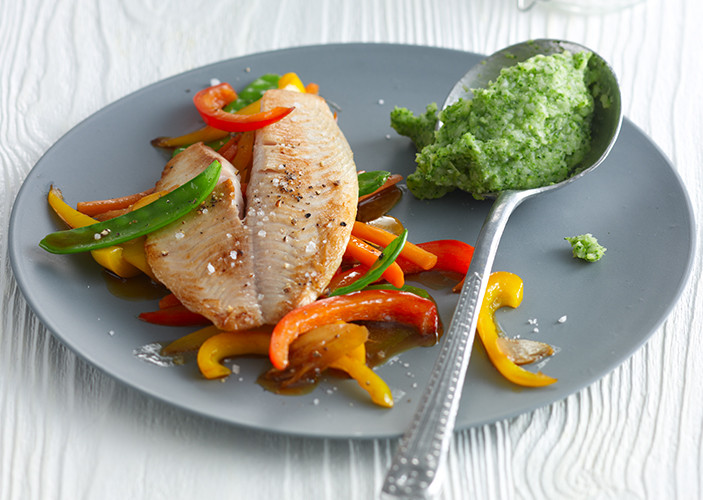 Recipe: Tilapia fillets with broccoli purée
1 portion contains approximately: 470 kcal - 54 g protein - 13 g fat - 34 g carbohydrate
Ingredients (for 2 persons)
1 tbsp rapeseed oil
2 springs of thyme
1 spring of rosemary
2 cloves of garlic
2 tilapia fillets (200 g each)
2 tbsp lemon juice
400 g broccoli
120 g potatoes
100 ml vegetable stock
1 pinch of nutmeg
300 g peppers (red, yellow)
100 g carrots
100 g mangetout
2 cm piece of ginger
1 tbsp olive oil
Pepper
Salt
Preparation
Add the rapeseed oil to a pan with the herb sprigs. Peel the garlic, smash it and add to the oil. Infuse the oil over very low heat.
Rinse the fish and pat dry. Place the fillets on a plate, drizzle with lemon juice and add salt. Place the fish in the refrigerator briefly.
Wash, clean, and slice the broccoli into individual florets.
Wash, peel, and dice the potatoes.
Heat the vegetable stock in a saucepan, add the diced potatoes and cook for about 10 minutes.
Add the broccoli florets and continue cooking.
As soon as the vegetables and potatoes are soft, drain off the vegetable stock and set aside.
Purée the broccoli and potatoes.
Season with salt, pepper, and nutmeg. Keep warm.
Wash and clean the vegetables.
Peel the carrots and ginger.
Cut the peppers and carrots into strips.
Slice the ginger thin.
Blanch the mangetout.
Cook the vegetables in the olive oil until firm to the bite.
Season with salt and pepper.
At the same time, fry the fish filets in the infused oil.
Remove the sprigs before serving.
Arrange the fish filets, broccoli purée and vegetables on warmed plates and serve.