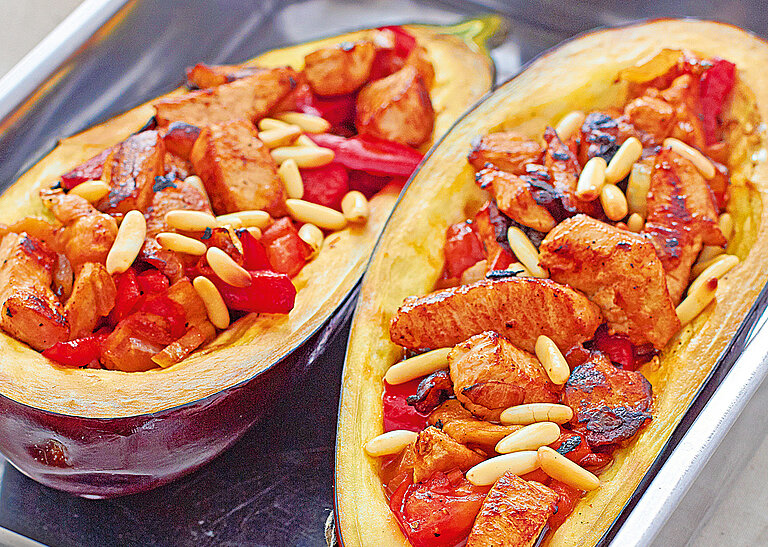 Recipe: Stuffed aubergine with pinenuts
1 portion contains approximately: 420 kcal - 35 g protein - 12 g fat - 43 g carbohydrates
Ingredients (for 2 persons)
70 g brown rice
2 chicken breasts (100 g each)
2 aubergines (300 g each)
40 g onions
1 clove of garlic
100 g canned diced tomatoes
150 g red peppers
1 chilli pepper
250 ml vegetable stock
2 tbsp pine nuts
1 tbsp lemon juice
1 tbsp olive oil
1 pinch of oregano
1 tbsp parsley
Pepper
Salt
Preparation
Cut the aubergines in half lengthwise and scoop out their insides. Drizzle the insides with lemon juice.
Mince the onions, garlic, chilli pepper and dice the pepper.
Heat the oil in a pan and gently cook the onion-garlic-chili-parsley mixture. Add the tomatoes and pepper. Season with salt, pepper and oregano.
Dice the chicken breast and add it to the vegetables. Add half of the vegetable stock and bring to the boil.
Transfer the filling to the aubergines, toast the pine nuts briefly and sprinkle them over the filling.
Place the aubergine in a lightly greased casserole dish, pour over the rest of the stock, and braise for 15 to 20 minutes in the oven (200°C).
Serve with 70 g brown rice.