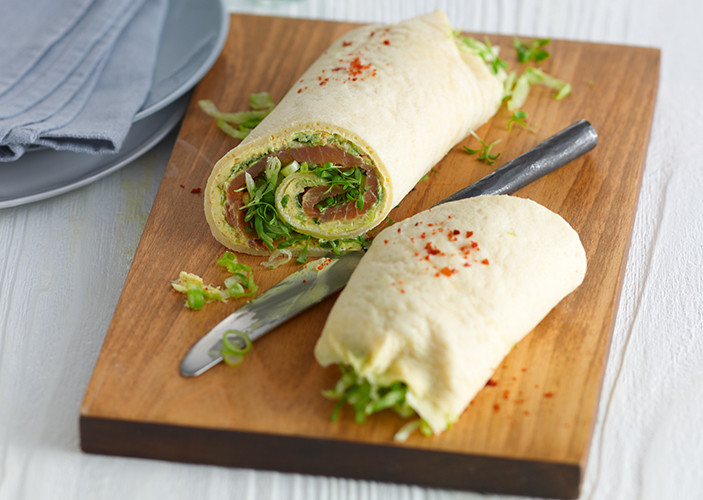 Recipe: Smoked salmon wrap
1 portion contains approximately: 445 kcal - 31 g protein - 25 g fat - 24 g carbohydrate
Ingredients (for 2 persons)
For the wrap:
50 g chickpea flour, finely ground
100 ml cold water
1 tsp rapeseed oil
1 medium egg
1 tbsp rapeseed oil for baking
Salt
For the filling:
150 g iceberg lettuce
1⁄2 packet of cress
2 sprigs of dill
80 g low-fat cream cheese
40 g low-fat sour cream
20 g spring onions
1 dash chilli flakes
¼ tsp curry powder
150 g smoked salmon
For the mustard vinaigrette:
1 tsp honey
1 tsp low-fat sour cream
2 tbsp balsamic vinegar
2 tbsp vegetable stock
1 tbsp walnut oil
Pepper
Salt
Preparation
To prepare the wrap, whisk together all the ingredients to form smooth dough. Fry 2 wraps in the hot oil and set aside.
To prepare the filling, wash the iceberg lettuce and slice thin. Wash, clean, and slice the spring onions. Mix into the salad.
Trim the cress with a pair of scissors. Pluck the dill leaves off the sprig and mince them. Add the herbs to the salad.
Combine the cream cheese, sour cream, and spices and fold into the salad. Spread this mixture on the wraps and lay the salmon on top. Roll up the wraps, cut diagonally in half and serve.
Cut the other half of the iceberg lettuce into strips. Dress with a mustard vinaigrette and serve on the side.