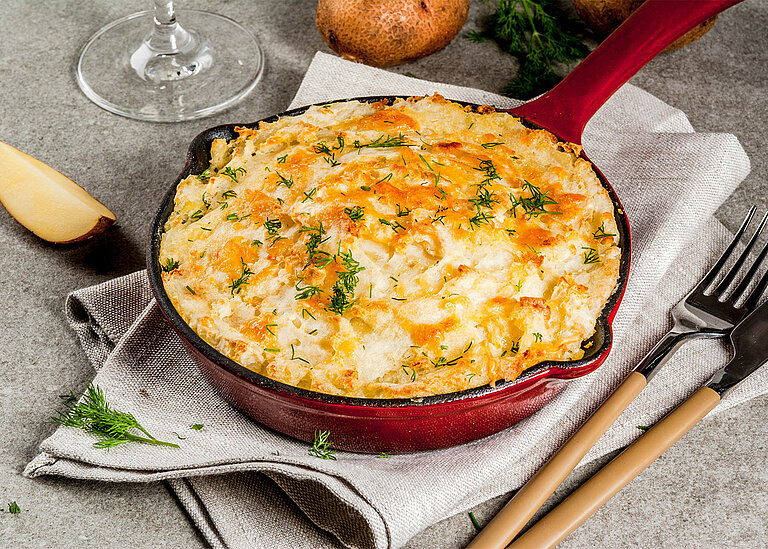 Recipe: Shepherds pie with sweet potato topping
1 portion contains approximately: 391 kcal - 26 g proteins - 15 g fat - 38 g carbohydrates
Ingredients (for 2 persons)
250g minced lamb (reduced-fat)
1 medium carrot
1 small green pepper
1 small onion
1 clove of garlic
½ cup of chopped mushrooms
½ tsp chilli powder
½ tsp dried rosemary
sea salt
black pepper
2 tbsp tomato paste
150 ml vegetable stock
Sweet potato topping:
1 large sweet potato
1 tbsp butter
¼ tsp chilli powder
sea salt
pepper
Preparation
Preheat oven to 180°C.
Chop the carrot, onion, pepper, mushrooms and garlic.
Add the minced lamb to a frying pan or skillet (no need to add oil). When the lamb starts to brown add the vegetables.
Cook on medium heat until the vegetables are soft. Begin making the potato topping while the meat filling cooks.
Chop the sweet potato into cubes, then steam or boil. Once the potatoes are soft add the butter and seasonings and mash until smooth.
In the meantime, stir in tomato paste, vegetable stock, seasonings, salt and pepper to the meat filling.
Final step: transfer the meat filling to a casserole dish and top the meat filling with the sweet potato mash. Dash with sea salt and chilli powder.
Bake for 10 minutes. Remove from oven and serve with seasonable vegetables.