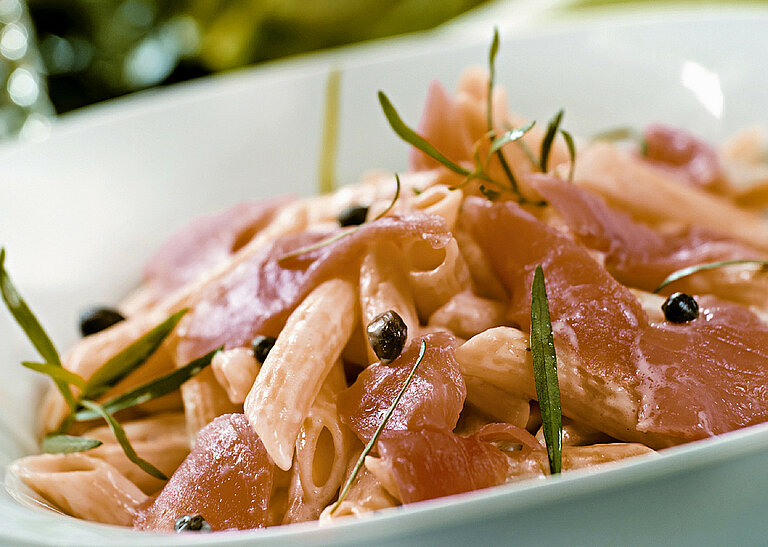 Recipe: Salmon with gorgonzola sauce and salad
1 portion contains approximately: 454 kcal - 29 g protein - 26 g fat - 26 g carbohydrate
Ingredients (for 2 persons)
150 g smoked salmon
50 g gorgonzola
70 g wholewheat spaghetti
1 tbsp rapeseed oil
40 g onions
100 ml vegetable stock
150 g lambs lettuce
1 tsp walnut oil
½ tsp mustard
½ bunch of chives
1 tbsp balsamic vinegar
1 tbsp walnuts
Pepper
Preparation
Prepare the spaghetti, according to directions on the package. Cook until al dente.
Mince the onion and chives. Cut the gorgonzola into chunks and the salmon into strips.
Heat the rapeseed oil in a pan, cook the onions until translucent, and deglaze with the vegetable stock.
Add the gorgonzola to the pan and let it melt, stirring continuously.
Add the salmon to the sauce and heat.
Season with salt and pepper and stir in the chives.
Wash the lambs lettuce and prepare a dressing from water, walnut oil, vinegar, and spices.
Chop the walnuts and scatter over the salad.
Serve with the spaghetti.