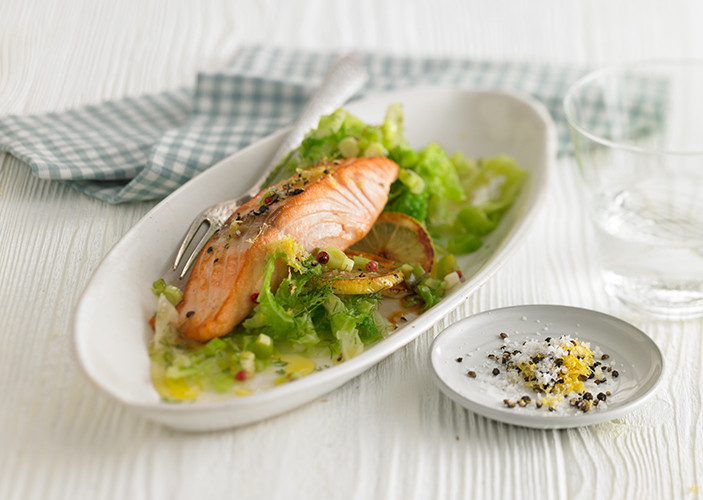 Recipe: Salmon fillets with lemon salt and cabbage
1 portion contains approximately: 412 kcal - 35 g protein - 25 g fat - 13 g carbohydrate
Ingredients (for 2 persons)
2 salmon fillets (140 g each)
4 lemon slices
4 sprigs of dill
2 tsp red peppercorns
400 g savoy cabbage
½ tsp sea salt, pepper
Zest of ½ a lemon
1 tsp caraway seeds
40 g onions
1 tbsp unsalted butter
1 pinch of ground caraway
80 g spring onions
2 tsp rapeseed oil
Preparation
Mix the salt with the lemon zest and pepper.
Rub the lemon salt over the salmon fillets and let rest in the refrigerator.
In the meantime, wash and quarter the savoy cabbage, then cut into strips.
Bring a large pot of water to boil and add the caraway seeds.
Cook the cabbage in it for about 5 minutes. Remove the cabbage, rinse with cold water and leave to drain.
Peel and mince the onion; sauté in the butter until translucent.
Stir in the ground caraway. Add the cabbage and sweat it in the butter until warm.
Wash, clean, and slice the spring onions. Cook them in 1 tsp rapeseed oil.
Add the peppercorns and continue to cook. Sear the salmon for 2–3 minutes per side in the remaining oil, top with the slices of lemon.
Pluck the dill leaves off the sprig and mince them.
Arrange the spring onions with the peppercorns on warm plates. Place the salmon and lemon slices on top.
Garnish with dill.
Arrange the cabbage next to the fish and serve.