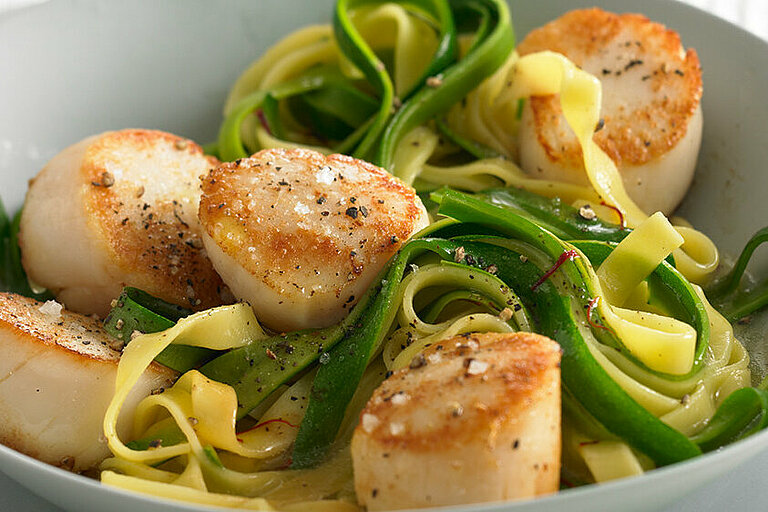 Recipe: Saffron tagliolini with scallops
1 portion contains approximately: 412 kcal - 33 g protein - 12 g fat - 42 g carbohydrate
Ingredients (for 2 persons)
80 g wholegrain tagliolini
400 g scallops
400 g courgettes
2 tbsp olive oil
2 cloves of garlic
1 tbsp parsley
Saffron
Curry powder
Pepper
Salt
Preparation
Cook the tagliolini in water, drain, and keep warm.
Wash the courgette and cut them lengthwise into strips that are roughly the same size as the pasta.
Heat 1 tablespoon of oil in a pan, sauté the garlic, and then add the saffron and curry powder. Add the courgette noodles and cook for about 5 minutes. Add the tagliolini and mix; season with salt and pepper.
In a second pan, sear the scallops in 1 tablespoon of olive oil for only 30 seconds per side. Season with salt and pepper.
Divide the courgette-tagliolini mixture between the warmed plates and arrange the scallops on top. Garnish with the chopped parsley and serve.
Serve with a fresh salad of mixed greens.