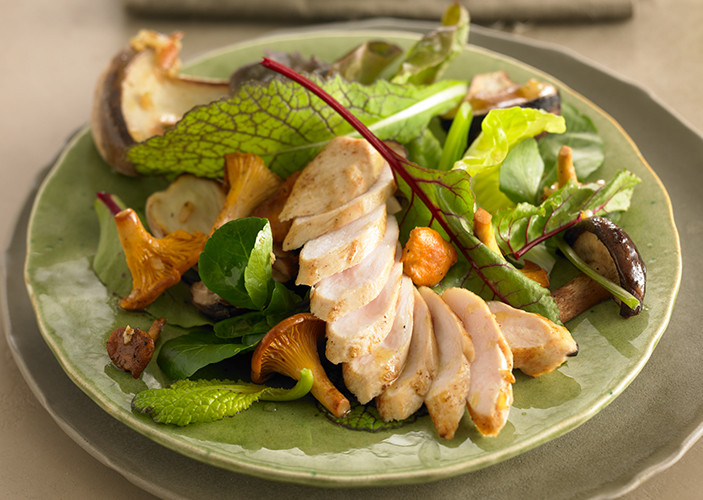 Recipe: Saddle of rabbit on a bed of warm mushrooms
1 portion contains approximately: 337 kcal - 43 g protein - 9 g fat - 21 g carbohydrates
Ingredients (for 2 persons)
120 g mixed salad greens
400 g mixed mushrooms
20 g shallots
3 cloves of garlic
2 tsp rapeseed oil
2 tsp walnut oil
2 saddles of rabbit (140 g each)
1 sprig each of rosemary and
thyme
2 tbsp white balsamic vinegar
Salt, Pepper
2 slices of wholegrain bread
Preparation
Wash the greens and cut into bite-sized pieces.
Clean the mushrooms and quarter or halve them, depending on the size.
Wash and mince the shallots and one garlic clove, then fry in the rapeseed oil until translucent.
Add the mushrooms, season with salt and pepper, and sauté. Set aside in a bowl and let cool.
In the meantime, season the rabbit with salt and pepper and sauté in the rapeseed oil for about 3 minutes per side. Add the sprigs and the rest of the garlic cloves to add flavor.
Turn off the heat, cover the pan, and let the meat rest briefly.
While it rests, mix the mushrooms with the vinegar and walnut oil, then season with salt and pepper.
Fold in the greens.
Arrange on two plates.
Carve the rabbit into slices, arrange on the salad, and serve with one slice of wholegrain bread.