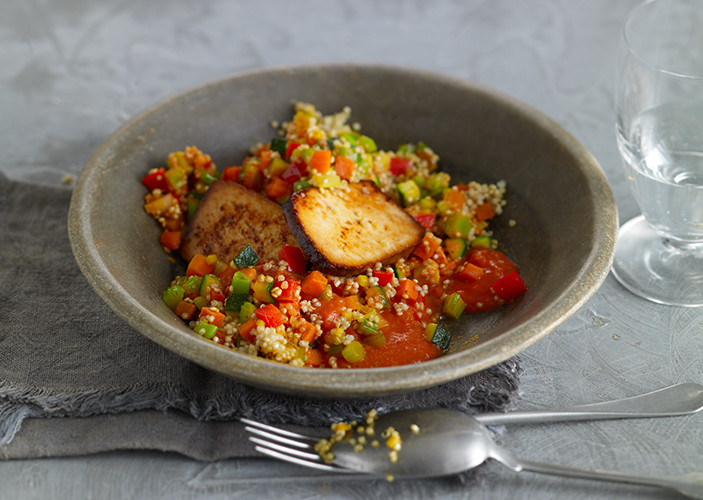 Recipe: Quinoa Ratatouille with Smoked Tofu
1 portion contains approximately: 558 kcal - 31 g protein - 26 g fat - 50 g carbohydrates
Ingredients (for 2 persons)
Ratatouille:
80 g quinoa
250 ml vegetable stock
2 spring onions
3 cm root ginger
150 g carrots
2 celery sticks
150 g courgettes
1 red pepper
1 tbsp rapeseed oil
200 g smoked tofu
1 tbsp rapeseed oil
Turmeric
Cumin
Curry powder
Pepper
Salt
For the tomato sauce:
1 shallot
2 cloves of garlic
1 tbsp rapeseed oil
100 g tomatoes
1 can of chopped tomatoes
4 stalks of basil
Pepper
Salt
Preparation
Bring the quinoa briefly to the boil in 200ml vegetable stock and simmer for approx. 25 minutes on a low heat. Turn off the heat and allow to soak for about another 5 minutes.
Wash and clean the vegetables.
Cut the spring onions into rings.
Peel the ginger and carrots. Finely dice the ginger. Dice the carrots, courgette and pepper.
Cut the celery into pieces.
Heat the oil, stir the ginger and curry powder into the oil, add the vegetables and cook gently.
Pour in the remaining 100ml vegetable stock. Put a lid on the pan and braise for about another 8 minutes. Add the spices and seasonings to taste.
Then mix the vegetables with the quinoa.
Cut the tofu into slices of a thickness of approx. 0.5 cm and brown briefly in the oil on both sides.
Arrange the quinoa and fried tofu on 2 plates with the tomato sauce.
Tomato sauce:
Peel the shallot and garlic, dice and fry in the oil.
Wash the tomatoes, dice and add to the pan together with the canned tomatoes and braise together.
Wash the basil and chop finely. Add to the tomato sauce.
Season with salt and pepper.
Allow the tomato sauce to simmer for approx. 20 minutes on a very low heat.
Blend using a hand blender.