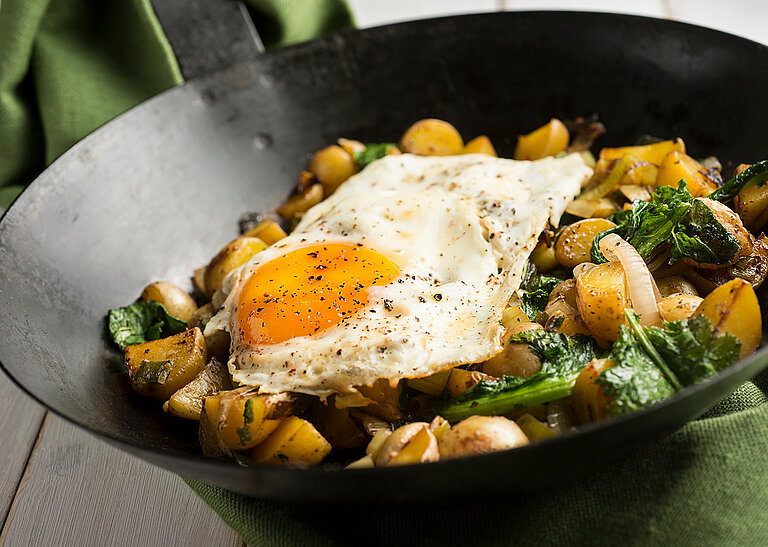 Recipe: Potatoes and Lentils served with spinach and eggs
1 portion contains approximately: 472 kcal - 31 g protein - 20 g fat - 42 g carbohydrates
Ingredients (for 2 persons)
200 g potatoes
40 g onion
1 tbsp rapeseed oil
1 clove of garlic
80 g puy lentils
¼ l vegetable stock
100 g tinned chopped tomatoes
1 tbsp vinegar
300 g spinach (frozen)
Salt
4 eggs
Pepper
Nutmeg
Thyme
Cayenne pepper
Preparation
Peel the potatoes and cut into medium-sized cubes, then dice the onion.
Heat 1 tbsp oil in a frying pan, gently fry half of the onions and the unpeeled garlic clove, add the lentils and continue to fry a little longer.
Add the stock and cook for around 10 minutes.
Add the cubed potatoes and carry on cooking until the potatoes are tender.
Then add the tomatoes, thyme and vinegar, and season to taste with salt, nutmeg and cayenne pepper.
Gently fry the rest of the onions in the remaining oil. Cook until translucent, add the spinach and once the spinach has defrosted, season.
Make space in the pan, fry the eggs sunny-side up and arrange everything on a plate.