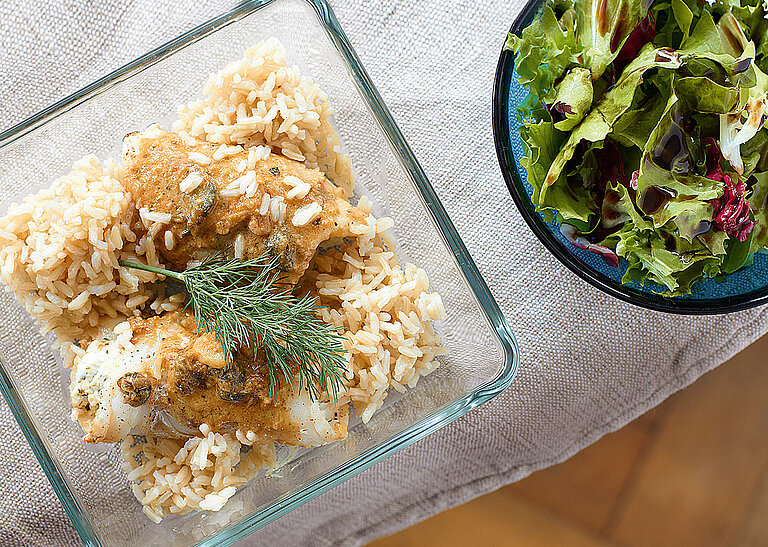 Recipe: Plaice in a mustard sauce
1 portion contains approximately: 426 kcal - 46 g protein - 14 g fat - 29 g carbohydrate
Ingredients (for 2 persons)
2 plaice fillets (200g each)
70 g brown rice
2 tbsp lemon juice
1 tbsp reduced-fat cream cheese with herbs
2 tsp butter
150 ml vegetable stock
2 tbsp low-fat crème fraîche
1 tsp capers
1 tsp mustard
2 sprigs of dill
50 g iceberg lettuce
1 tsp walnut oil
1 tbsp vinegar
2x wooden skewers
Salt, pepper
Preparation
Prepare the brown rice, according to the instructions on the package.
Wash the plaice fillets and season with lemon juice, salt, and pepper.
Spread the cream cheese on the filets, then roll them up and pin together with a wooden skewer.
Bring the butter, vegetable stock, and capers to a boil in a pan. Add the fish rolls and cover; cook for about 10 minutes over low heat.
Remove the fish from the pan and keep warm.
Mix the mustard with the low-fat crème fraîche and stir into the sauce. Season to taste with salt, pepper, and dill.
Wash the lettuce and prepare a dressing from water, oil, vinegar, and spices.
Serve with rice.