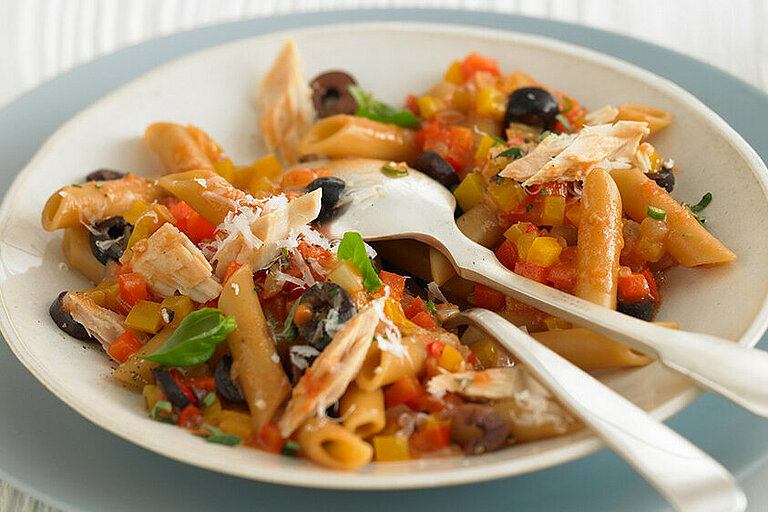 Recipe: Penne all'arrabbiata with tuna
1 portion contains approximately: 434 kcal - 31 g protein - 14 g fat - 46 g carbohydrate
Ingredients (for 2 persons)
100 g wholewheat pasta
150 g yellow peppers
150 g red peppers
40 g onions
2 cloves of garlic
1 red and 1 green chili pepper
16 black olives
1 tbsp rapeseed oil
200 g canned tomatoes
150 g canned tuna (undrained)
2 tbsp each of oregano, thyme, dried basil
2 Tbsp grated parmesan cheese
Black pepper
Salt
Preparation
Cook the pasta until al dente.
Wash, clean, and dice the peppers.
Peel and mince the onion and garlic. Wash the chili peppers and slice. Slice the olives thin.
Heat the oil in a pan and sauté the onions briefly until translucent. Add the diced pepper and sauté for about 5 minutes. Add the garlic, olives and tomatoes.
Drain the tuna, smash it with a fork, and add to the vegetables. Season with salt and pepper, simmer for about 5 minutes.
In the meantime, wash and chop the herbs. Fold into the sauce.
Serve the pasta and vegetable sauce on warm plates, sprinkled with 1 tbsp parmesan.