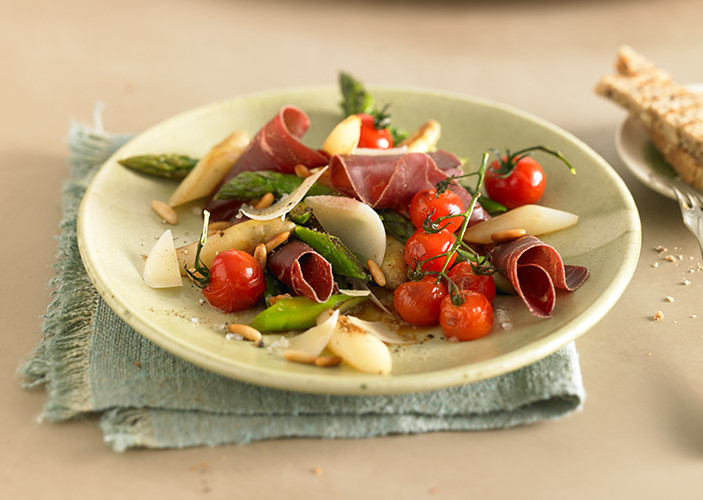 Recipe: Pan-seared asparagus with beef
1 portion contains approximately: 344 kcal - 21 g protein - 20 g fat - 20 g carbohydrates
Ingredients (for 2 persons)
300 g white asparagus
300 g green asparagus
200 g cherry tomatoes
2 tbsp rapeseed oil
20 g pine nuts
60 g thinly sliced beef
30 g parmesan cheese
Pepper
Salt
2 slices of wholegrain bread
Preparation
Wash the asparagus and slice into approximately 1.6-inch pieces.
Wash the tomatoes.
Heat the oil in a pan. Sauté the white asparagus for about 5 minutes.
Then add the green asparagus and carefully sauté the mixture for another 5 minutes.
To finish, add the cherry tomatoes and sauté for about 5 minutes until they gently burst open.
Season with salt and pepper.
Toast the pine nuts briefly in a dry, oil-free pan.
Serve the asparagus-tomato mixture on warmed plates. Arrange the beef, scatter the pine nuts and grate the parmesan on top.
Serve with the toasted wholegrain bread.