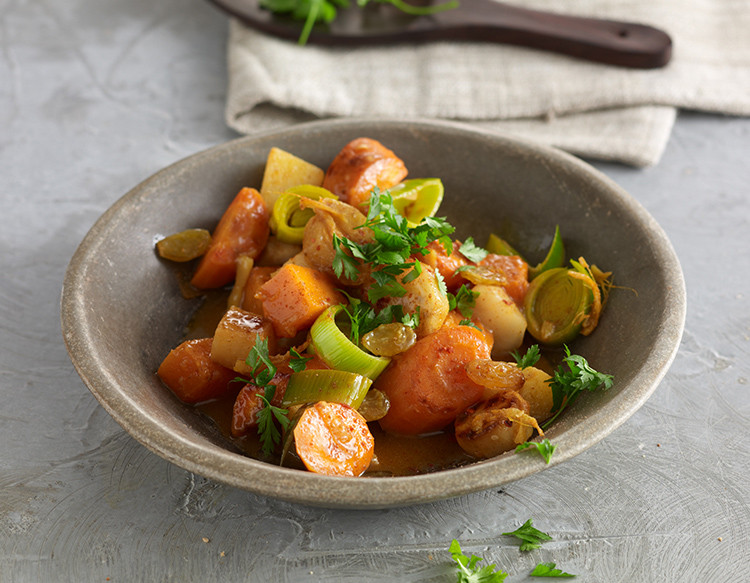 Recipe: Moroccan Vegetable Stew
1 portion contains approximately: 242 kcal - 10 g protein - 10 g fat - 28 g carbohydrates
Ingredients (for 2 persons)
100 ml vegetable stock
200 g butternut squash
200 g carrots
200 g kohlrabi
300 g artichoke
1 leek
2 tbsp rapeseed oil
2 cm ginger
2 cloves of garlic
2 cardamom seeds
1 small pinch of turmeric
¼ tsp curry powder
1 pinch of cinnamon
1 small pinch of ground cumin
1 small pinch of ground coriander
1 small pinch of cayenne pepper
1 pinch of salt
1 tbsp lemon juice
1 tsp raisins
¼ bunch flat-leaf parsley
¼ bunch fresh coriander
Preparation
First make an "aromatic oil". To do this, place the rapeseed oil in a frying pan and warm up gently. Peel the ginger and garlic, grate the ginger and crush the garlic. Add both to the oil.
Place the cardamom seeds into the oil and lightly press. Mix all the other spices and seasoning into the oil. Heat up the aromatic oil. Add the lemon juice and the vegetable stock, then let everything simmer.
Preheat the oven to 200°C.
Wash and clean the squash, artichoke and other vegetables.
Peel the carrots, kohlrabi and artichoke and cut up into bite-size pieces. Halve the leek and cut into 2 cm pieces.
Mix this all together and place in a tagine or oven proof dish. Mix the raisins into the aromatic oil and pour this over the vegetables in the oven proof dish, cover and cook for approx. 30 minutes.
Wash the herbs and pat them dry, pluck the leaves from the stems, chop and sprinkle over the vegetables before serving.