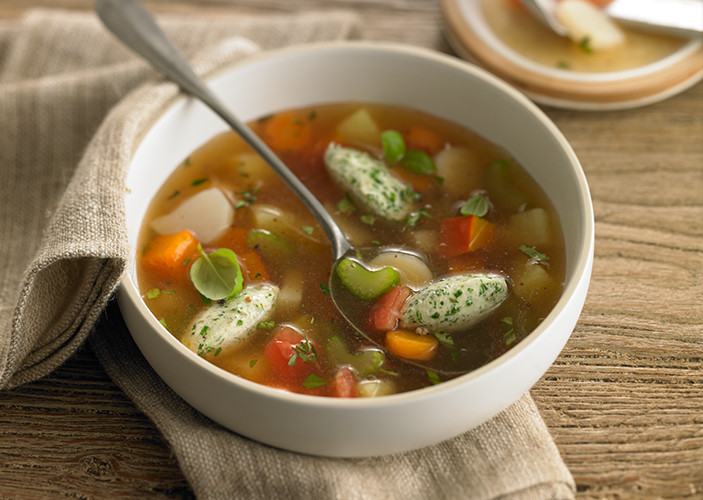 Recipe: Minestrone with meatballs
1 portion contains approximately: 311 kcal - 27 g protein - 11 g fat - 26 g carbohydrate
Ingredients (for 2 persons)
For the soup:
120 g carrots
250 g celery stalks
100 g parsnip
100 g Jerusalem artichokes
100 g butternut squash
100 g potatoes
120 g tomatoes
2 tbsp rapeseed oil
600 ml vegetable stock
Nutmeg
Pepper
Salt
1½ tbsp herbs
For the meatballs:
150 g turkey mince
1/4 bunch of chives
1 tbsp basil and thyme
Pepper
Salt
Preparation
For the soup: Wash and clean the vegetables.
Peel the carrots, parsnip, butternut squash and artichoke. Cut these into equally sized cubes.
Cut the celery into slices approximately ½ cm thick.
Cut an "X" into the top of each tomato and plunge them into hot water, then shock under cold water to stop the cooking process. Peel, cut into eighths, and remove the seeds.
Heat the rapeseed oil in a pot and cook the vegetables in it. Add 350ml vegetable stock and bring to a boil. Add the spices, cover, and simmer for about 5–8 minutes over low heat.
Wash the fresh seasonal herbs, pat dry, chop, and set aside to be used as a garnish later.
To prepare the meatballs, first bring 250ml vegetable stock to a boil. Turn off the heat.
Wash the herbs and shake them briefly to dry. Mince them very finely and add to the turkey mince. Season with salt and pepper.
Scoop out balls with a teaspoon. Drop them into the vegetable stock and cook for 4 minutes.
Divide the minestrone between two bowls and add the meatballs. Garnish with the seasonal vegetables and serve.