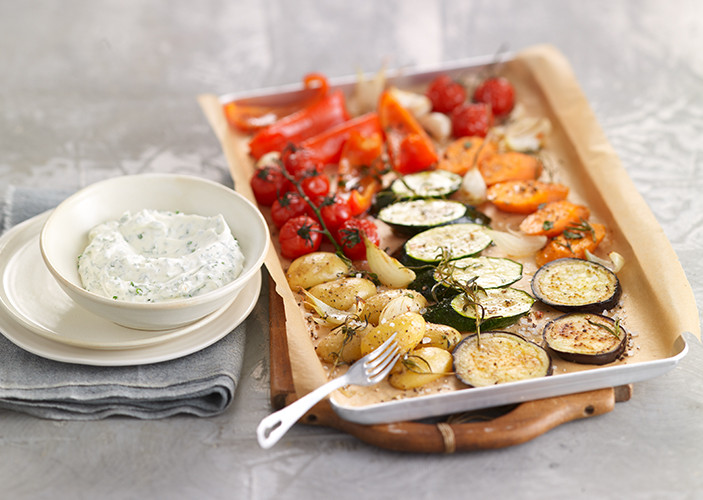 Recipe: Mediterranean roast vegetables with a quark dip
1 portion contains approximately: 390 kcal - 24 g protein - 14 g fat - 42 g carbohydrates
Ingredients (for 2 persons)
1 tbsp rosemary
½ a bunch of oregano
3 tbsp rapeseed oil
200 g new potatoes
1 carrot
1 aubergine
1 courgette
1 red pepper
250 g cherry tomatoes
1 onion
5 cloves of garlic
200 g low-fat quark
60 ml water
1 pinch of ground paprika
6 stalks of parsley
½ bunch chives
Pepper
Salt
Preparation
Line a baking tray with baking paper. Preheat the oven to 180°C.
Roughly chop the oregano and rosemary, mix with the rapeseed oil, pepper and salt.
Wash and halve the potatoes, then place on one quarter of the baking paper.
Wash and clean all the vegetables, cut into slices of approx. 1 cm, cut the peppers into eighths. Peel and cut the onion into eighths.
Mix the vegetables with some of the herb oil and place on the baking tray. Drizzle the remaining oil over the potatoes.
Place the unpeeled garlic also on the baking tray and cook everything for approx. 20 minutes in the oven.
In the meantime, prepare the quark dip: Wash and finely chop the herbs. Mix the quark with the water until smooth, season with pepper, paprika and salt, then stir in the herbs.
Serve with the roast potatoes and vegetables.