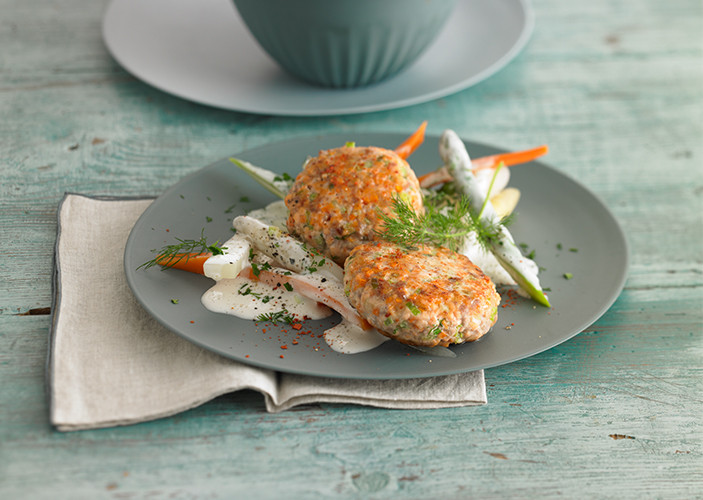 Recipe: Fishcakes with seasonal vegetables
1 portion contains approximately: 412 kcal - 45 g protein - 29 g fat - 27 g carbohydrate
Ingredients (for 2 persons)
150 g fillet of salmon
100 g fillet of tuna
100 g halibut
1⁄2 stale wholegrain bread roll
80 g spring onions (or leeks)
160 g carrots
150 g celery stalks
1 medium egg
1 tbsp cornstarch
300 g season vegetables (e.g. fennel, courgettes, celeriac)
40 g red onions
2 tbsp rapeseed oil
2 tsp sour cream
2 tbsp chopped parsley
100 ml vegetable stock
Chilli powder
Pepper
Sea salt
Preparation
Dice the fish.
Soak the ½ bread roll in water.
Wash, clean, and very finely chop the onion, carrots and celery.
Add the egg to the vegetables and combine with the diced fish and cornstarch. Press the liquid out of the soaked roll and add. Season to taste with the spices. Let the mixture rest, covered.
Meanwhile, wash, clean, and chop the seasonal vegetables.
Sauté the diced onions in the oil, add the vegetables, and continue to cook. Add a little vegetable stock if necessary.
Season to taste with salt and pepper and keep warm.
Just before serving, fold in the sour cream and parsley.
Heat the rapeseed oil in a pan and form the fish mixture into patties. Fry each one on both sides until golden brown.
Arrange on a plate with the vegetables and serve.