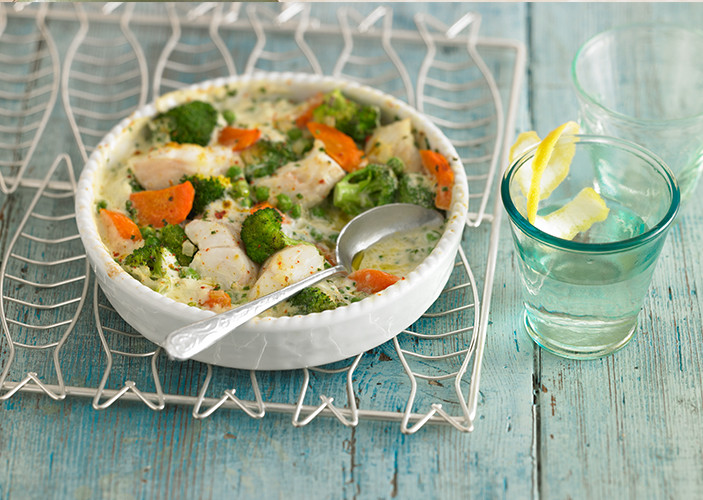 Recipe: Colourful vegetable casserole with cod
1 portion contains approximately: 412 kcal - 56 g protein - 13 g fat - 30 g carbohydrate
Ingredients (for 2 persons)
400 g cod
1 clove of garlic
1 dash chilli flakes
1 tbsp rapeseed oil
200 g broccoli florets
200 g frozen peas
200 g carrots
40 g onions
1 tbsp rapeseed oil
1 tbsp wholewheat flour
100 ml vegetable stock
100 ml low-fat milk
1 tbsp low-fat crème fraîche
1 dash curry powder
1 dash cayenne pepper
¼ bunch of chives
4 springs of parsley
Pepper
Salt
Preparation
Cut the cod into 2-cm cubes.
Peel and mince the garlic, add it to the oil. Add the chilli flakes. Marinate the cod in this mixture; set aside.
Peel, halve, and slice the carrots. Place the carrots, broccoli florets and peas into a casserole dish. Scatter the fish on top.
Preheat the oven to 190°C.
Peel and slice the onion, sauté in the rapeseed oil and coat with flour. Add the stock, stirring continuously. Add the milk and simmer. Stir in the crème fraîche and spices.
Wash and dry the chives. Slice and add to the sauce.
Pour the sauce over the vegetable-fish mixture. Cook for about 30 minutes in the oven.
Wash the parsley and chop.
Serve the casserole in its dish, garnish with parsley.