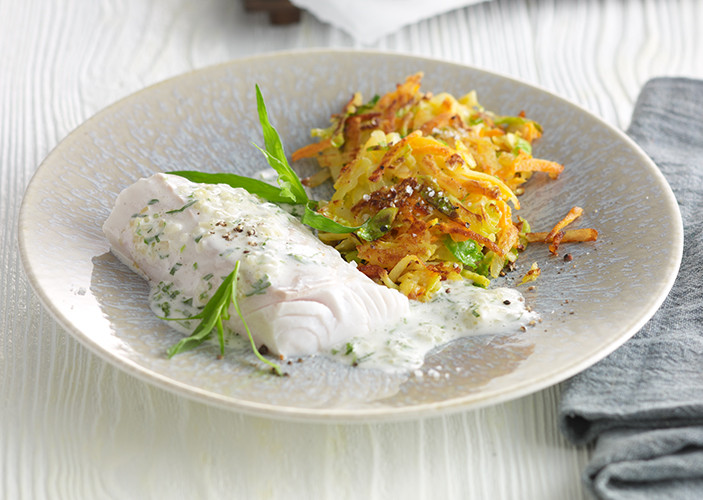 Recipe: Cod in a tarragon sauce with golden potato pancakes
1 portion contains approximately: 470 kcal - 51 g protein - 14 g fat - 35 g carbohydrate
Ingredients (for 2 persons)
40 g shallots
1 tbsp butter
1 tbsp whole-wheat flour
100 ml vegetable stock
100 ml low-fat milk
400 g filet of cod
300 g Brussels sprouts
200 g carrots
200 g potatoes
40 g onions
1 egg
1 tbsp rapeseed oil for baking
Black pepper
Salt
Preparation
Peel and mince the shallots; sauté them in the butter until translucent.
Coat with the flour, pour in the vegetable stock and bring to a boil.
Add the milk and simmer briefly.
Season with salt and pepper. Add lemon juice to taste.
Wash the tarragon, pat dry, mince and add to the mixture.
Add the cod and let it cook in the sauce for about 15 minutes.
In the meantime, wash and clean the vegetables.
Trim the stems off the brussels sprouts and cook in lightly salted water until firm to the bite. Let cool, cut each one in half and then slice into strips.
Peel and grate the potatoes, carrots, and onion. Add an egg and stir.
Combine everything and season with salt and pepper.
Heat oil in a pan. Form pancakes out of the vegetable mixture, add them to pan, and flatten them slightly with the back of a spoon.
Fry on both sides until golden.
Remove the fish from the sauce and arrange on two plates.
Serve with the pancakes and drizzle the tarragon sauce over the fish.