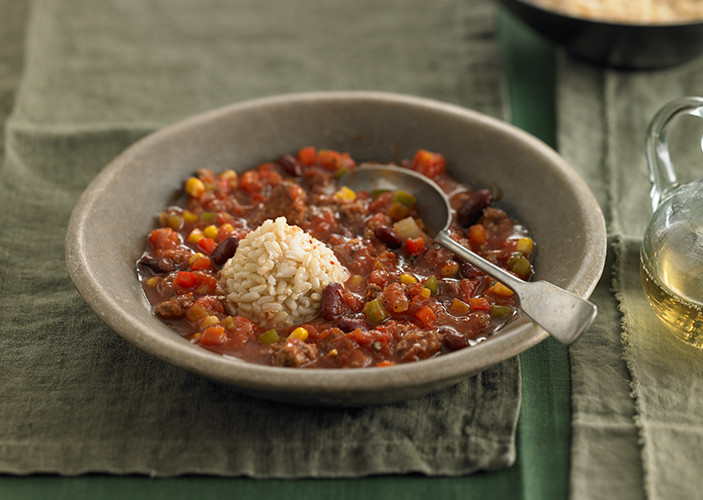 Recipe: Chilli con carne with rice
1 portion contains approximately: 551 kcal - 32 g protein - 19 g fat - 63 g carbohydrates
Ingredients (for 2 persons)
160 g reduced-fat minced beef
80 g brown rice
240 ml vegetable stock
40 g red onions
2 cloves of garlic
450 g peppers (red, green, yellow)
2 chilli peppers (red, green)
1 tbsp rapeseed oil
1 tbsp tomato paste
100 ml vegetable stock
160 g canned tomatoes
120 g canned kidney beans, drained
100 g canned corn, drained
1 dash cayenne pepper
Pepper
Salt
Preparation
Cook the rice in the vegetable stock.
Peel and mince the onion and garlic.
Wash, clean, and core the peppers. Dice the peppers and slice the chilli pepper very thin.
In a pot, sauté the minced beef in the oil, add the onion and garlic and sauté as well. Add the tomato paste.
Add the peppers, chilli pepper, kidney beans, canned corn and tomatoes. Stir well and simmer for about 15 minutes on medium heat.
Season generously with the spices.
Serve the chilli in warmed bowls with 40g brown rice each.