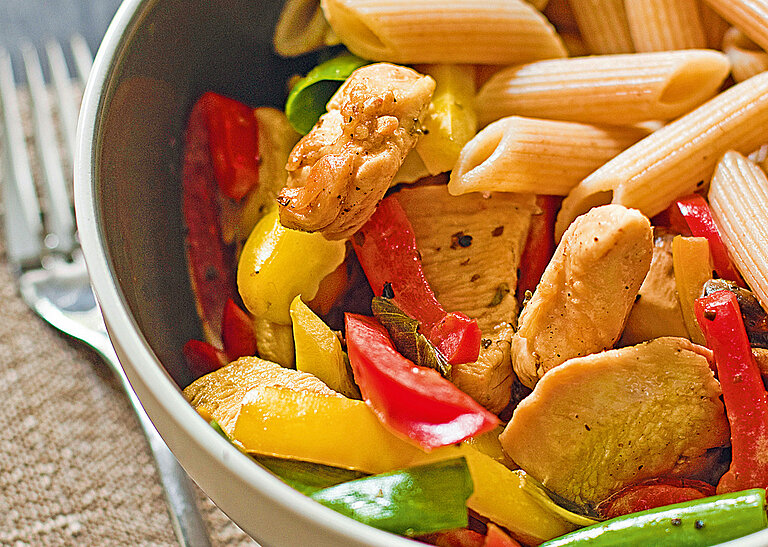 Recipe: Chicken and vegetable stir-fry
1 portion contains approximately: 428 kcal - 44 g protein - 12 g fat - 36 g carbohydrates
Ingredients (for 2 persons)
250 g chicken breast
2 tsp rapeseed oil
150 g leek
200 g mushrooms
150 g yellow peppers
150 g red peppers
1⁄4 l vegetable stock
2 tbsp low-fat crème fraîche or
sour cream
1 pinch of ground paprika
1 pinch of marjoram
70 g wholegrain pasta
Pepper
Salt
Preparation
Dice the chicken.
Halve the leek and cut into approximately 2-cm-thick pieces. Chop the peppers and halve the mushrooms.
Heat the oil in a pan and sear the chicken. Season, remove from the pan and keep warm.
Briefly sauté the peppers, leek, and mushrooms in the leftover oil. Add the vegetable stock, season with marjoram and cook for about 15 minutes.
Add the chicken to the vegetables and cook for another 5 minutes.
To finish, stir in the crème fraîche (or sour cream). Season to taste with salt, pepper, ground paprika and marjoram.
Serve with the wholegrain pasta, cooked al dente.