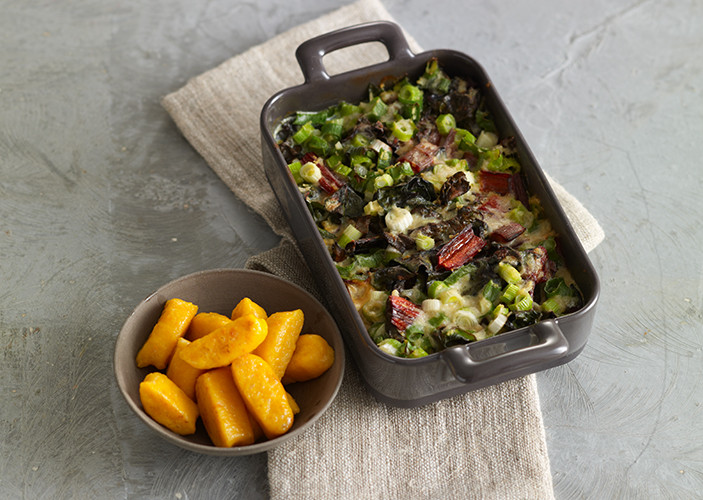 Recipe: Chard gratin with squash gnocchi
1 portion contains approximately: 329 kcal - 22 g protein - 17 g fat - 22 g carbohydrates
Ingredients (for 2 persons)
4 spring onions
2 cloves of garlic
2 cm root ginger
1 tbsp rapeseed oil
300 g chard
1 shallot
1 tbsp butter
3 tbsp soya flour
250 ml vegetable stock
2 tbsp grated parmesan cheese
For the squash gnocchi:
250 g butternut squash
100 g potatoes
2 small eggs
Nutmeg
Pepper
Salt
Preparation
Wash and clean the spring onions, then cut into rings. Peel and finely dice the garlic and ginger. Fry all these ingredients gently in rapeseed oil until translucent.
Wash and clean the chard, cut into strips and fry with the spring onions, garlic and ginger. Place all of these ingredients into a greased ovenproof dish.
Preheat the oven to 200°C.
Peel and finely dice the shallot and fry gently in the butter until translucent. Stir in the soya flour and add the vegetable stock. Mix it all together thoroughly so that there are no lumps. Stir in the Parmesan.
Pour the Parmesan sauce over the chard mixture. Put the gratin dish into the oven and bake for approx. 20 minutes at approx. 180°C.
To make the gnocchi, peel the squash, remove the seeds and cut into cubes. Wash, peel and dice the potatoes. Cook both these ingredients in salted water and allow to cool.
Then using a potato ricer or masher, press together the potatoes, squash and eggs. Add the nutmeg and spices. Roll the dough onto a floured work surface to form ropes. Then cut these up into individual gnocchi with a length of about 2 cm.
Place in simmering salted water. Cook for 4 minutes, remove using a slotted spoon, drain and serve with the chard gratin.