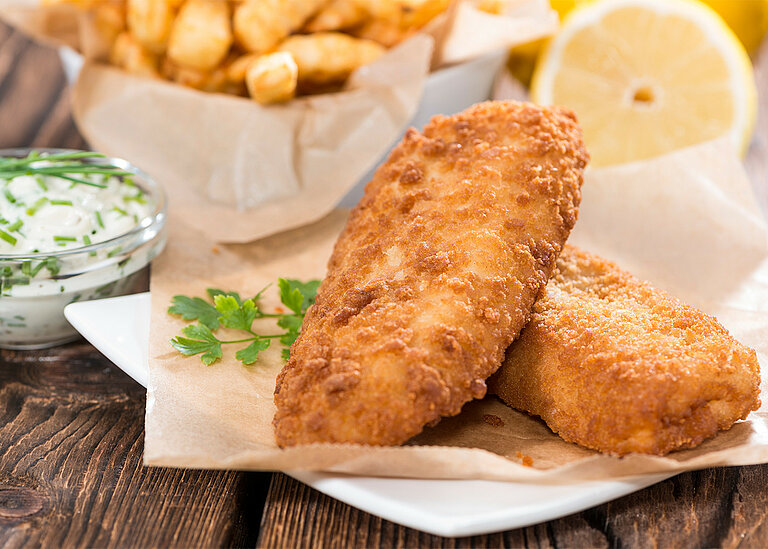 Recipe: Breaded fish and chips
1 portion contains approximately: 350 kcal - 39 g protein - 5 g fat - 37 g carbohydrate
Ingredients (for 2 persons)
1 tbsp rapeseed oil
olive oil cooking spray
300 g baking potatoes
2 fillets of cod or haddock
45 g breadcrumbs
1 small egg
2 tsp dried mixed herbs
1 tsp paprika
Pepper
Salt
Preparation
Preheat the oven to 200oc. Wash and cut the potatoes into ½ inch thick wedges.
Toss the potatoes, rapeseed oil, salt and pepper in a large bowl. Spread the potatoes onto a baking tray.
Bake on the lower oven rack, turning every 10 minutes, until tender and golden
Meanwhile, dry the fish and put on a flat chopping board. Combine the crumbs, seasoning, herbs and paprika in a mixing bowl.
Brush the flesh of the fish with beaten egg then sprinkle the crumb mix over the top, pressing into the fish flesh to completely cover. Place on the prepared wire rack.
Coat both sides of the breaded fish with cooking spray.
Bake the fish on the upper oven rack until opaque in the center and the breading is golden brown and crisp, about 20 minutes.
Serve with seasonal vegetables or a side salad.