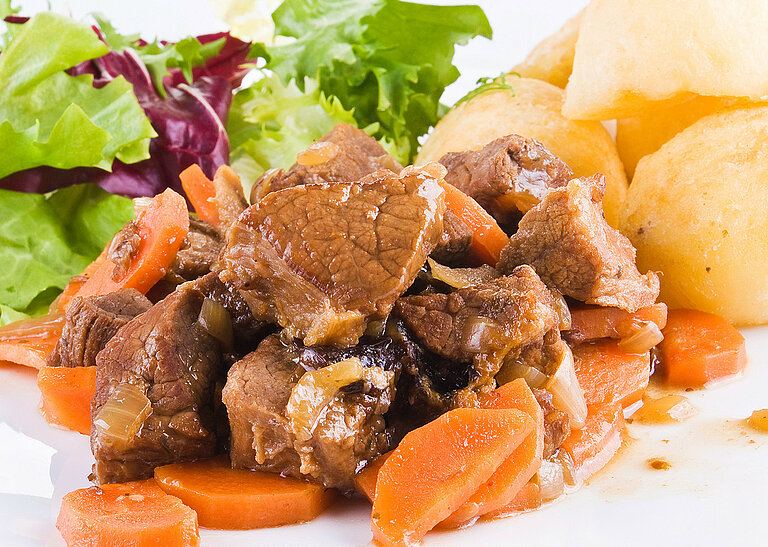 Recipe: Braised beef with root vegetables
1 portion contains approximately: 432 kcal - 44 g protein - 16 g fat - 28 g carbohydrates
Ingredients (for 2 persons)
350 g lean beef (intended for braising)
160 g onions
150 g celeriac
1 clove of garlic
200 g carrots
125 g leek
750 ml vegetable stock
2 tbsp tomato paste
2 tsp rapeseed oil
1 tbsp parsley
Caraway seeds
Cinnamon
Marjoram
Pepper
Salt
2 slices of wholegrain bread
Preparation
Dice the beef and cut the onions, celeriac, carrots, and leek into small pieces.
Mince the garlic.
Heat the oil in a large stockpot, sauté the meat with the onions.
Season the meat with salt and pepper, add the tomato paste, and deglaze with a 150ml stock.
Add the rest of the stock and simmer for about 1 hour.
Add the rest of the vegetables except for the leek and simmer for a further 30 minutes.
Once the meat is tender, add the leek, herbs and spices and simmer for 10 more minutes.
Season to taste with cinnamon.
Serve with 1 slice of wholegrain bread.