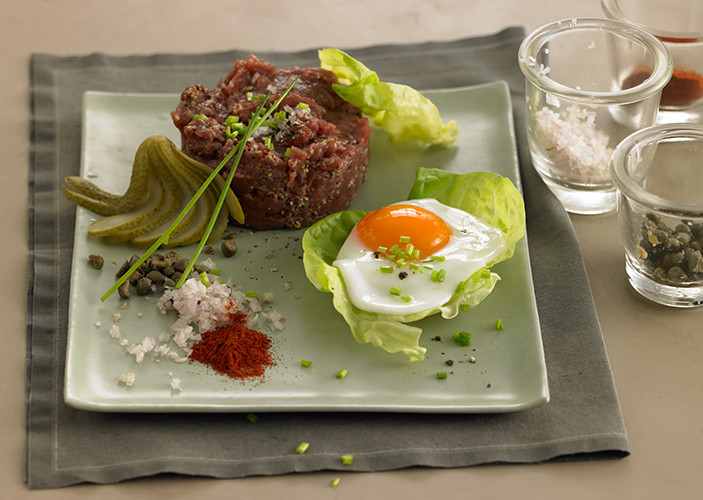 Recipe: Beef tartare with fried egg
1 portion contains approximately: 436 kcal - 41 g protein - 20 g fat - 23 g carbohydrates
Ingredients (for 2 persons)
240 g minced beef
2 egg yolks
1 tsp mustard
60 g shallots
4 leaves of romaine lettuce
100 g pickles
2 tsp capers
1 tsp ground sweet paprika
2 eggs
1 tbsp rapeseed oil
1 tbsp chives, chopped
Pepper
Salt
2 slices of wholegrain bread
Preparation
In a bowl, fold the egg yolks into the minced beef. Season with mustard, salt, and pepper.
Peel and mince the shallots; add 2/3 of them to the meat.
Wash the lettuce, pat it dry, and place 2 leaves on each plate.
Shape the tartare into 2 patties and place these on the lettuce.
Slice the pickles while leaving one end intact, forming a fan; place these on the lettuce as well.
Garnish the plates with the rest of the shallots, capers and the ground paprika.
Heat the oil in a pan and fry the eggs. Season them with salt and pepper, place them on the lettuce, and sprinkle the chives on top.
Serve with one slice of wholegrain bread.