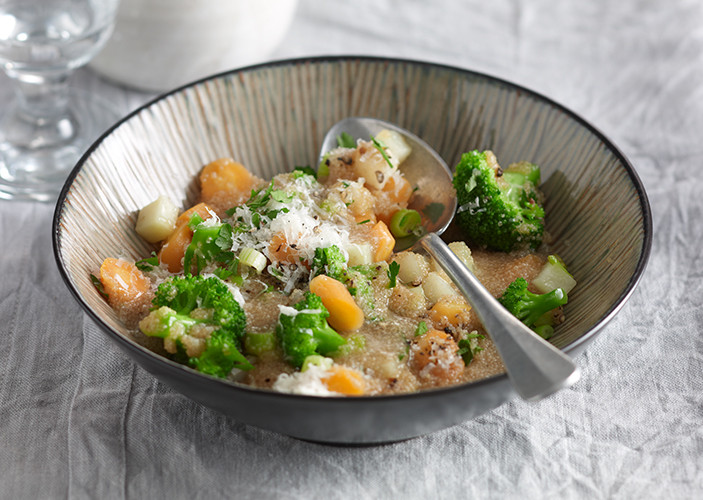 Recipe: Amaranth and vegetable stew
1 portion contains approximately: 440 kcal - 23 g protein - 20 g fat - 42 g carbohydrates
Ingredients (for 2 persons)
100 g spring onions
2 cloves of garlic
1 tbsp rapeseed oil
75 g amaranth
250 ml vegetable stock
150 g carrots
150 g kohlrabi
250 g broccoli
1 tbsp lemon juice
1 tbsp olive oil
½ bunch of flat-leaf parsley
40 g parmesan cheese
20 g low- fat edam cheese
300 g artichoke
Salt, Pepper
Preparation
Wash and clean the spring onions, then cut into fine rings. Peel the garlic and finely dice. Heat the rapeseed oil in a pan, add the spring onions and fry gently until translucent.
Add the amaranth, give it all a quick stir, then add the vegetable stock. Cover with a lid and simmer for 20 minutes on a low heat.
In the meantime, wash and clean the vegetables. Dice the kohlrabi and carrots, then divide the broccoli up into small florets. After the first 20 minutes of cooking add the vegetables to the amaranth, stir and continue to cook gently for approx. 10 minutes. The vegetables should still be al dente.
Season with salt and pepper and add lemon juice and olive oil.
Wash the parsley, pluck off the leaves from the stem and finely chop.
Grate both the edam and parmesan and stir half of the cheese into the vegetable mix.
Serve and sprinkle with the remaining cheese.